The Jain Center of Southern California pathshala adheres to the fundamental Jain principles imparted by the Tirthankaras. This curriculum is developed to facilitate the knowledge and practice of the teachings of Mahavir Bhagwan. This document is to be implemented with fidelity by all stakeholders of the administration and executive staff of the JCSC Pathshala Program.
The pathshala program is designed and implemented for the students to honor and to live by the words of Mahavir Bhagwan. The students will develop into vigilant and discriminating practitioners who are compassionate, humble, dutiful, and straightforward citizens of the global community. A pathshala graduate is empowered with the seeds of wisdom necessary to navigate one's own destiny on an elevated spiritual journey.
The core pathshala curriculum consists of religion class and a second class consisting of language/culture/life balance class based on the age of the student.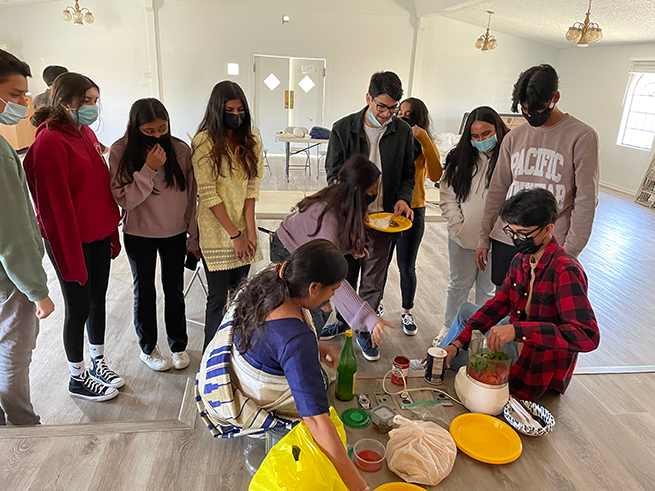 Design of the Religion Curriculum
The students will learn the Jain principles and values, strengthen their Jain beliefs, and integrate Jain practices in their daily life. Thus the pathshala program will reinforce and perpetuate a Jain sangh of active and independent practitioners of Jain religion.
The curriculum consists of four strands of study: philosophy, rituals, history, and application taught sequentially over 15 years.
These strands will be presented at an introductory level to the younger age groups. Later on they will be explored and analyzed in an age appropriate manner. With clear goals and objectives for each class, the students will experience a cohesive curriculum.
Goal: Students will manifest their Jain learning in a lifelong practice of universal compassion, straightforwardness, and self-discipline.
Teaching Philosophy: Facilitate experiences of relevant, applicable and transformative Jain principles to enable the students to develop their soul identity.
4 Strands
Philosophy: universal Jain principles
Rituals: sutras, puja, and temple protocol, samayik and pratikraman
History: ancient, middle and current events and luminaries
Application: Jain code of conduct
Gujarati/Hindi Language Classes:
At the Jain Center, we strongly believe teaching children our language will help us keep our religion, heritage, and culture. Our objectives for our children to communicate, read, and write in Gujarati/Hindi. During the first three years of the program we introduce vowels, consonants, barakhadi, numbers, words, small sentences, and learn basic communication. Later part of the program will cover grammar, how to read, write complex sentences, paragraphs, translations, and communicate in Hindi/Gujrati. This is teamwork and we will need children, parents, and teachers to support. *In the Hindi program, we prepare kids to qualify for a college level test.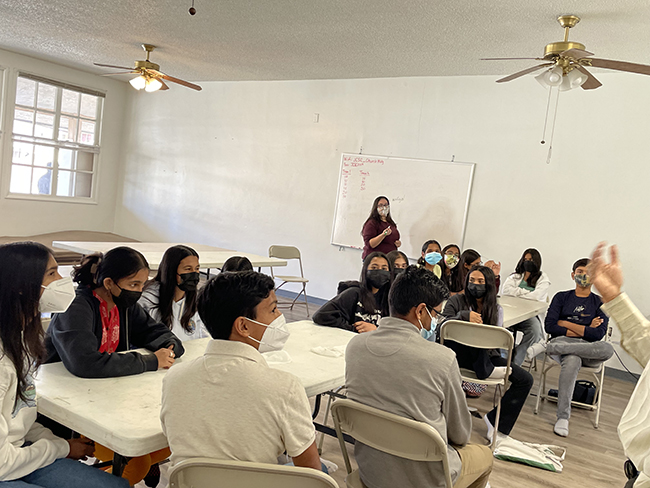 Indian Culture Class :
The class gives students an opportunity to immerse in all things Indian - from history and politics to geography and the country's diverse natural relief, to foods and festivals, fashion and languages, art and architecture, music and sports. Students get an appreciation of the diversity and richness of the country. For our children that have been brought up in a much more homogeneous culture in this country, the class provides an ability to experience the country's heritage. Children complete the course with a project that provides an in depth research of one of the Indian states.
Life Balance:
The Life Balance class covers a variety of topics that prepare students for independence in college life, and also address skill sets that help students prepare for adulthood and independence. Some topics are pragmatic in nature such as diet, nutrition, time management and communication skills, to softer topics such as networking, mindfulness and interpersonal relationships. The topics in this class continue to evolve over the years.
Outside of the core curriculum, students have the option to participate in the following additional classes:
* Sutra Class (currently for students age 7yrs to 14 yrs).
The sutra class provide additional coaching on the proper pronunciation and recital of salient sutras that are part of the darshan vidhi. Sutra Classes are normally held on non-Pathshala Sunday morning, and on Saturday morning in some cases. Student can select from two different tracks:
Chaityavandan Vidhi: The Chaityavandan Vidhi program is to educate and teach students, per Shwetambar tradition, starting with Chaityavandan Vidhi, Bhaav puja. Students will start in Level 1 and move to Level 2 or Level 3 based on their assessment with the Sutra Coaches during the first couple of classes.
Jin Darshan Vidhi:The Jin Darshan prepares the student to carry out the rituals of Bhaav puja during a visit to the temple per Digamber tradition. The advanced program includes learning puja duha and Six Essentials, for more advanced daily activities. All students will start and learn in Level 1.
Toastmaster For Teens (for students 13 yrs to 18 yrs)
This well known public speaking program has been tailored to the needs of the youth. Students learn to organize their thoughts and speak in a manner that engages the audience. Students develop critical thinking skills and build self confidence along their journey to clear articulation.
STEAM Workshops (for students 7 yrs to 13 yrs)
The workshops in the past have included Python, Turing Tumble, Bioengineering, STEAM Challenging and Public Speaking.